Hello all. As you may have recently noticed, we're adding new weekly Officer Blogs by some of the Board of Directors here on OgreLair.org. As the only parent and only married individual serving on our board, welcome to my family-themed blog: Dungeons & Dads.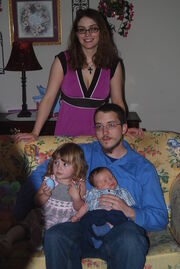 Before I begin next week with the feature, which will be posted every wednesday afternoon, I suppose it is only proper to introduce myself and my family to you. My name is Hooper and I've been married to my wife Aimee for just over a year. I have a daughter from a previous relationship that predominately stays with us instead of her birth mother. Her name is Katherine Renee Hooper, and she'll be three years old here in late July. My wife and I welcomed our son, William James Riley Hooper (known simply as Riley) into the world back in early March of this year, and we're pretty content with the current size of our family. I've been gaming for years and tend to geek it up in many ways. My daughter has rolled some dice but is not quite old enough to truly game, though she seems very receptive to the idea. Aimee is a non-gamer (though she has played a few sessions of Settlers of Catan and enjoyed it, so there is hope!) and of course our infant son is way too young for us to gauge his potential gamer.
The goal of this forthcoming feature is to showcase the struggles and triumphs of parenting and gaming in a proper environment. Being a married parent with a full time M-F 9-5, especially in my case around so many gamers my age with "mall jobs" or odd-hour jobs and no responsibilities, is challenging and rewarding (and exhausting). Fellow gaming dads will see a lot of the same, but this game is actually written for the non-parents among our gaming populace. The values of proper planning, timing, money management, multitasking, and such will be discussed at length. So, until next week, I'll look forward to reaching out to fellow and potential Ogres, and make sure to check out the other weekly blog features here on OgreLair.org!
Ad blocker interference detected!
Wikia is a free-to-use site that makes money from advertising. We have a modified experience for viewers using ad blockers

Wikia is not accessible if you've made further modifications. Remove the custom ad blocker rule(s) and the page will load as expected.