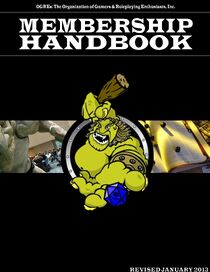 The Sponsor Program of the Organization of Gamers & Roleplaying Enthusiasts is a program designed to help facilitate collaboration between members and gaming companies that can benefit both. The program is designed to allow O.G.R.E.s to network with companies that relate to tabletop gaming and to establish good communication with these parties in a professional manner in order to share information about our organization and programs.
Sponsors are given free advertisement in print copies of the Membership Handbook that are sent to the region the store is located in, as well as given ad space and reviews on OgreLair.org.
---
Back To: Ogres Wiki → Organization of Gamers & Roleplaying Enthusiasts → Ogres Portal
Ad blocker interference detected!
Wikia is a free-to-use site that makes money from advertising. We have a modified experience for viewers using ad blockers

Wikia is not accessible if you've made further modifications. Remove the custom ad blocker rule(s) and the page will load as expected.