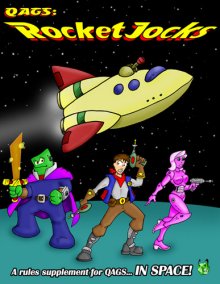 QAGS: Rocket Jocks is an optional rules supplement for QAGS Second Edition written by Joshua LH Burnett (The Dungeon of Moderate Annoyance) and illustrated by Joshua LH Burnett and Leighton Connor (QAGS Second Edition).
Rocket Jocks utilizes a slightly altered version of QAGS Second Edition.
Chapters that Play
Edit
The following chapters are know to play, previously played, or open to playing the game:
External Links
Edit
---
Back To: Ogres Wiki → O.G.R.E.s → RPG Portal → Role-playing Games → List of Games
Ad blocker interference detected!
Wikia is a free-to-use site that makes money from advertising. We have a modified experience for viewers using ad blockers

Wikia is not accessible if you've made further modifications. Remove the custom ad blocker rule(s) and the page will load as expected.