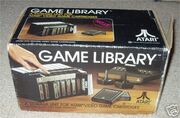 The following is an incomplete partial listing of the games that the Quilt City Ogres currently own or have access to in some fashion. If a game is not listed here, it does not necessarily mean that the chapter does not posses it or is not open to playing the game, just that they do not currently have access to it or that it has missed being added to the list (if the definition of missed is the same as too lazy to add).
Role-playing Games
Edit
The numerous role-playing games that the chapter has access to are listed below alphabetically by game. Supplemental releases will be listed in the same manner for ease of title searching, so books related to the same game may be spread out.
Board Games
Edit
Card Games
Edit
Party Games
Edit
---
Back To: Ogres Wiki → Organization of Gamers & Roleplaying Enthusiasts → Chapter → Chapter Portal → Kentucky → Quilt City Ogres
Ad blocker interference detected!
Wikia is a free-to-use site that makes money from advertising. We have a modified experience for viewers using ad blockers

Wikia is not accessible if you've made further modifications. Remove the custom ad blocker rule(s) and the page will load as expected.