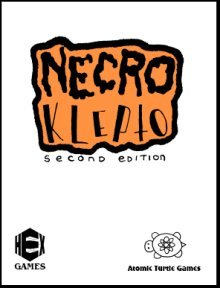 Necro Klepto! is a board game released by Hex Games, which utilizes the QAGS system.
Not long ago, adventurous men and women broke into graveyards, stole bodies, and sold them to anatomists for cold hard cash. Back in those days, grave robbers didn't need any fancy high-tech equipment--just a torch to light the way, a key to the cemetery gates, a shovel to dig up the grave, and a crowbar to pry open the coffin. With Necro Klepto, you and your friends can take on the role of competing grave robbers and relive those magical times!
Necro Klepto contains a game board, complete rules, and 16 item cards. In order to play the game, you need a token for each player and a six-sided die.
Chapters that Play
Edit
The following chapters are know to play, previously played, or open to playing the game:
---
Back To: Ogres Wiki → O.G.R.E.s → RPG Portal → Role-playing Games → List of Games
Ad blocker interference detected!
Wikia is a free-to-use site that makes money from advertising. We have a modified experience for viewers using ad blockers

Wikia is not accessible if you've made further modifications. Remove the custom ad blocker rule(s) and the page will load as expected.